Chrysoula K. & Púrpura
OUR STORY
Púrpura took their name after the latin word for "purple", a color that is the symbol of spirituality, of mystery and of the members' nostalgia for ages when people's differences were not a cause of division and pain… They carry with them songs from the discography of Chrysoula Kechagioglou, the group leader, but also traditional and composers' songs from different countries, Greece, Argentina, Portugal, Armenia, Italy… Chrysoula K. & Púrpura wish to combine elements of tradition with classical forms in order to bring up a new sound reality, nostalgic, vivid, playful and airy…
The slightly paradoxical choice of instruments – two traditional eastern Mediterranean instruments: kanun and lute and two instruments of classical origin: flute and cello, is the means for the exploration of this new musical land that the members of the band are trying to discover.
With compositions and covers influenced both by the East and the West, Chrysoula K. & Púrpura create a mozaik, continuing the endless dialog between the four cardinal points of the horizon.
Purpura members are:
Effie Zaitidou – kanun
Maria Ploumi – lute
Sofia Serefoglou – flute
Elsa Papeli – cello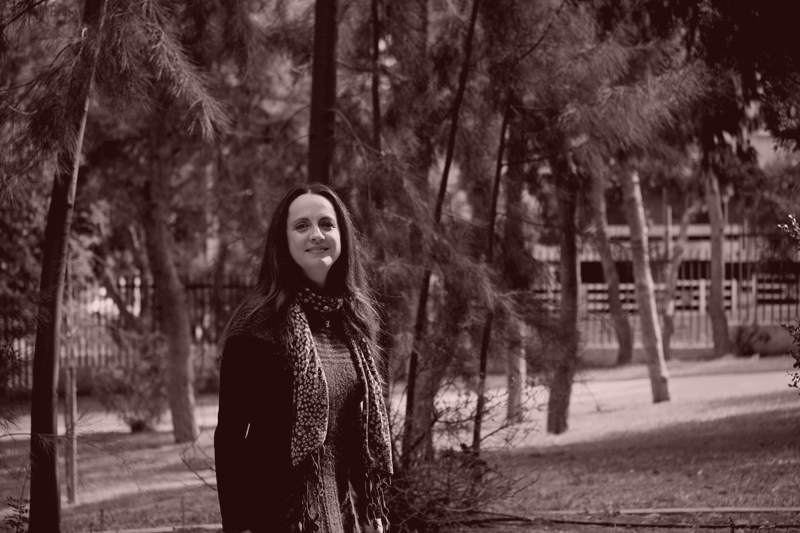 Chrysoula Kechagioglou has had singing lessons with Spiros Sakkas and Mirka Yemetzaki.
She participates in various traditional and folk music groups, performing songs from different cultures. She has cooperated in recordings and on stage with artists such as Nikos Antipas, Lina Nikolakopoulou, Manolis Mitsias, Manolis Pappos, Dimitris Mystakidis, Nikos Tatasopoulos, Nikos Kypourgos, Apodimi Compania,  John McSherry, Donal O'Connor,  Niall Hanna, Andy Irvine and Donal Lunny.
Over the last few years she has performed (either with her female band "Chrysoula K. & Púrpura", or as a member of other projects) around the world in the USA, Spain, France, Egypt, Finland, etc. culminating in her appearances at the Brunswick Music Festival (Melbourne 2013, 2017) and the National Folk Festival (Canberra 2013, 2017, 2018).
She is a member of the oldest Celtic group in Greece, "Iernis" and one of the initiators of Athens Celtic Festival (2014, 2016, 2017) aiming to bring together all the celtic music groups of Greece. She is also a member of the Rebetiko Music band "Apodimi Compania" with whom she has recorded three CDs.
In December 2014 she released her debut album titled "Sa Fylachto (As a Talisman)" – lyrics and music by Lazaros Samaras. Recently, she participated in the upcoming album of Andy Irvine and Donal Lunny's group "Mozaik" (Bruce Molsky, Rens van der Zam, Nikola Parov).
Effie Zaitidou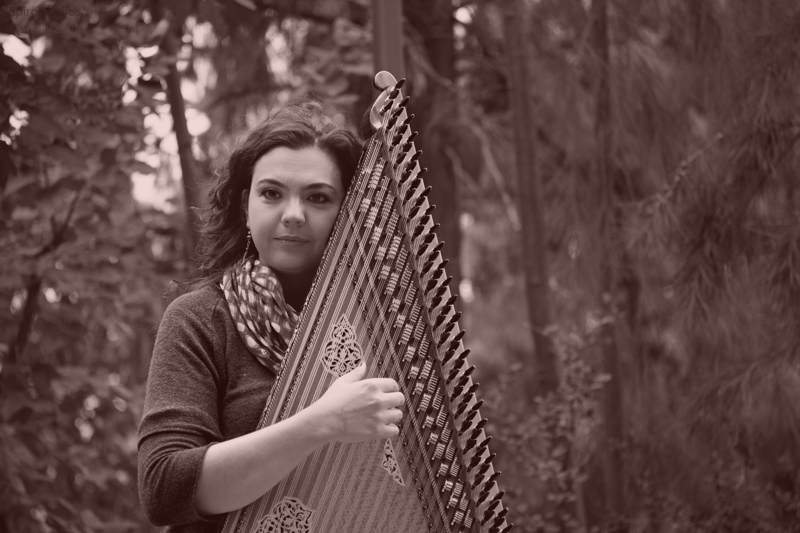 Effie Zaitidou grew up into a musical family and due to that, she was deeply immersed in the sound of byzantine and traditional Greek music from an early age.
At the age of 6 she started piano lessons, and soon began studying music theory.
In her high school years, she attended byzantine music lessons and during her studies in the Technological Educational Institute of Epirus (Department of Traditional Music), she devoted herself to the study of music traditions found in the area of the wider eastern Mediterranean and she chose to be specialized in the kanun.
Since 2004, she has been an active member of 'Al Mahabba Enseble' which was founded with the purpose of research and attribution of classic Arabic music from Middle East and the arabic-speaking countries of Africa.
She has been teaching kanun and music workshops in the Music High Schools of Athens and she has collaborated with famous Greek composers, like Yiannis Markopoulos and Nikos Xydakis, as a professional kanun player.
Maria Ploumi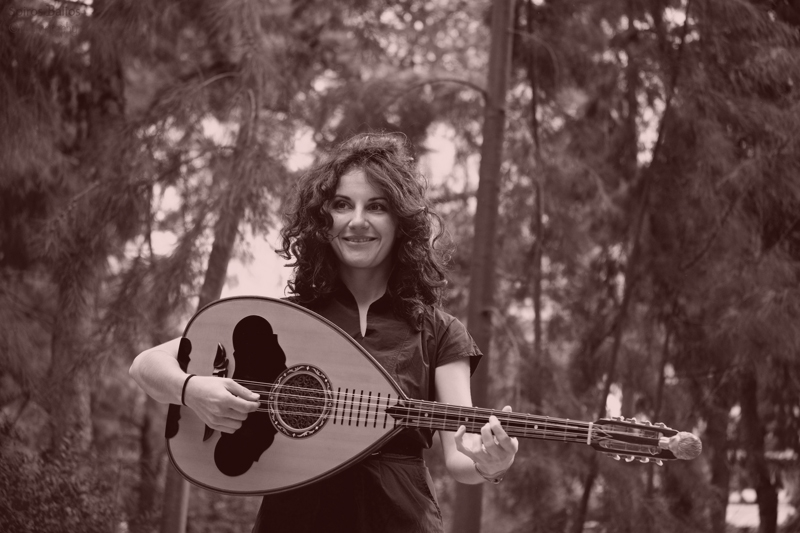 Maria Ploumi is a professional Greek musician. Born in Athens in 1985, she started Greek traditional lute (laouto) lessons at the age of 9. She studied Greek traditional music and the various ways of the lute playing throughout Greece, searching traditional and modern techniques and styles. At the age of 15 she won the 1st Prize at the "Panhellenic Students' Music Contest". She has also studied musicology in the faculty of Music Studies of the "National and Kapodistrian University of Athens" as well as western music theory and harmony. She has also attended singing and acting lessons.
Since 2003, she has collaborated with many distinguished greek traditional musicians and singers (such as Chronis Aidonidis, Chistos Tsiamoulis, Kyriakos Gouventas, Manos Achalinotopoulos, Martha Mavroidi, Michalis Kouloumis etc.) and has been performing in various concerts and international folk music/dance festivals in Greece and abroad.
Except of the traditional greek music, she often experiments with other music styles, trying to expand her tecnique while shaping her personal lute sound. As a result, she collaborated with the pianist George Paterakis setting together the "String Theory Ensemble" (2011-2015) and also recorded two of their music projects. She has also performed with the famous hungarian singer Marta Sebestyen. From 2015 she is member of the women's greek folk band "Chrysoula K. & Púrpura" performing in Greece and abroad. In March-April 2018 the group toured in Australia participating in the Cobargo Folk Festival, the National Folk Festival (Canberra), the Greek Festival of Sydney, the Rebetiko Festival of Melbourne, and the Hellenica Festival in Adelaide. In the National Folk festival, the group performed on stage with the distiguished Irish traditional musicians Donal o' Connor, John McSherry and Nial Hanna.
Sofia Serefoglou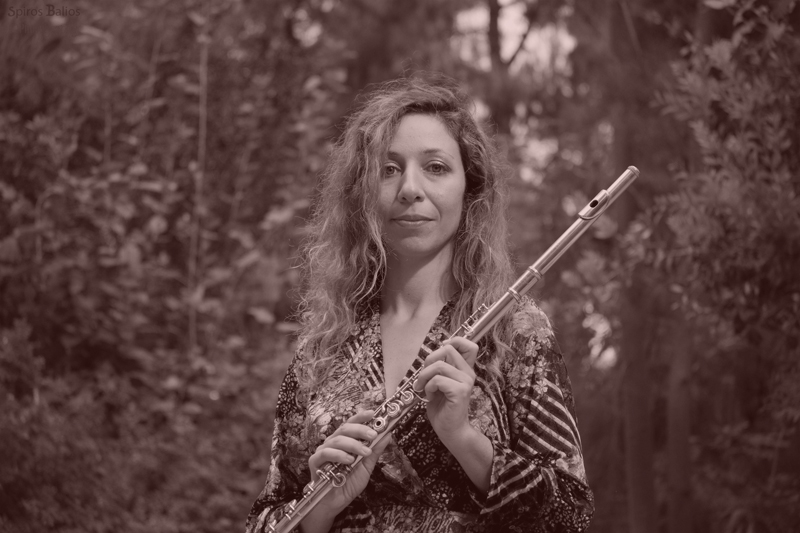 Sofia Serefoglou was born in Kos, one of Greece's Dodecanese islands.At a very young age she commenced her studies in music at the Conservatory of the city of Kalamata, where M. Avarakis was organising baroque flute concerts for many musical ensembles.  At the age of fifteen she undertook flute studies at the Conservatory of the city of Kalamata, having P. Vasileiadi as her teacher.  Then, she moved to Athens and continued her studies at the Athenaeum Maria Callas Conservatory, where she studied with Stella Gadedi, getting her diploma with high distinction and later on her degree in theoretical music, where she excelled, having as her teacher K. Varotsi. Furthermore, she studied the Orff approach and the Dalcroze method at Moraitis School, where she also undertook a number of flute and baroque music seminars  with P. Adam.
She performed in Greece and abroad  in concerts of classical, folk, rock and avantgarde music, she appeared on radio and television and, she participated in various international music festivals. She has recorded with a number of ensembles and orchestras. Sofia appeared on stage together with a number of famous Greek singers and musicians, such as SavinaYannatou, Dionysis Savvopoulos, K. Gouventas, V. Karipis  and others. Abroad, she has performed with Donald O' Conor, John Mac Sherry, Anne Clark and others.  She has also composed music for the theatre and for childrens fairy tales.  In the past, she worked as a music teacher at various private schools, but also at various state institutions (IEK).
Currently, she is a member of the Orchestra of the Cyclades contacted by Nikos Kypourgos, and a member of the women's folk ensemble Chrysoula K. & Purpura.  Apart from her participation in various concerts, she also teaches flute, baroque flute and the Orff approach at various conservatories.
Elsa Papeli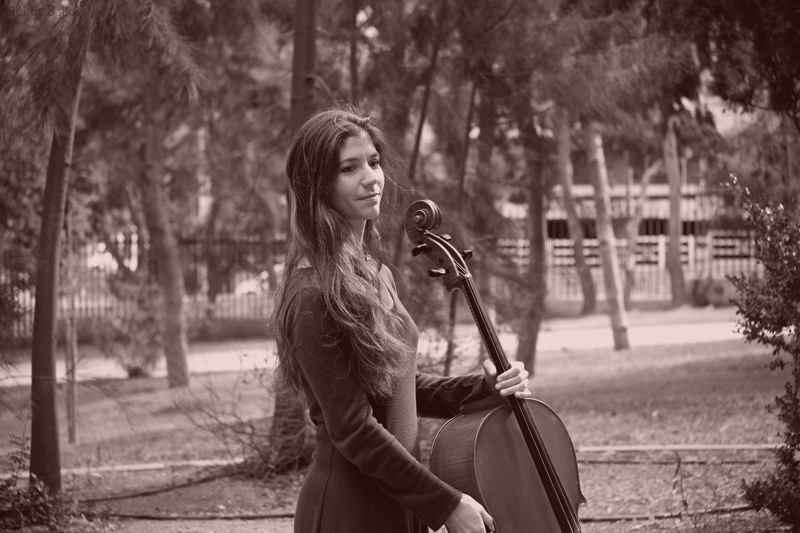 Elsa Papeli was born in Athens, Greece on 1985. At the age of 6 she began piano lessons, which she attended for 6 more years.A few years later she started classical cello studies in the National Conservatory of Athens and she received the cello Diploma in 2011. Later on she attended lessons of Ottoman classical music and Makam theory in Filippos Nakas Conservatory.
She has participated with the Greek Radio Symphony Orchestra in Athens Concert Hall, as well as with the Greek-Turkish Youth Orchestra in Odeon of Herodes Atticus (conductor: Vladimir Ashkenazy).
She has cooperated with composers such as Nikos Mamangakis, Anna Stereopoulou, Pigi Likoudi as well as with the soprano Sonia Theodoridou. She is part of the ensembles: "Athens Chamber Ensemble 2012", "Cinema Paradiso Project", "Chrysoula K. & Purpura" etc. She has participated in festivals of classical, pop and folk music in many places of Greece (Ardas Festival, Syros Festival, Serifos Festival etc.) and Australia (Cobargo Folk Festival, Rebetiko Festival of Melbourne, Greek festival of Sydney, National Folk Festival of Canberra, and Festival Hellenica in Adelaide).
She lives and works in Greece giving performances, making recordings and giving cello lessons.